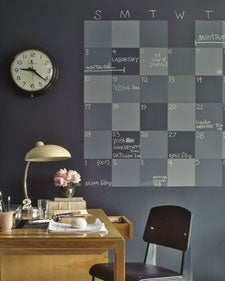 Making Chalkboard Paint is a seriously good time for many household projects. Personally, I think a wall painted with the blackest of black chalkboard paint would be perfect in my brewery!
There are many other places and uses for chalkboard paint, and with a coat or two, you can turn something that is mostly useless into a fun thing for family and friends.
Here's just a few uses I can think of off the top of my head! Let me know if you got anything else you'd like to use in the comments.
Paint a bar top for doodling and provide a bowl of chalk
Turn an entire wall of a kids room into something fun
Homeschoolers can make their own blackboard for teaching
Brewery wall to record exactly what is on tap
Small easel for taking pictures with
a breadboard sign for events on your street
These are just a few uses for this versatile recipe. It was shared multiple times on Pinterest, and Martha Stewart has written about a billion uses on her website. LifeHaker has used the paint in a variety of projects, and a home office could always use a calendar wall like Martha Stewart proposed...
1 cup paint - acrylic, any color, but darker colors work best
2 tablespoons grout
Mix evenly... Make as much as you need.
Also, check out these sites...
Make Custom Color Chalkboard Paint
[MarthaStewart.com]
How To Make Your Own Chalkboard Paint
[Crafts At Home via
Lifehacker AU
]