Starter kits are an amazing way to get started with your essential oils! Young Living offers a steep discount for those who are interested in starting up with a more natural and healthy lifestyle. The Premium Starter kit is a rocking value!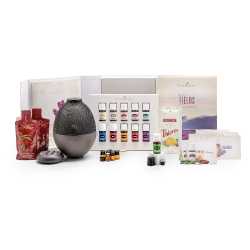 Your Premium Starter Kit Includes:
Rainstone Diffuser
Premium Essential Oils Collection;

Lavender 5-ml
Peppermint 5-ml
Lemon 5-ml
Copaiba 5-ml
Frankincense 5-ml
Thieves® 5-ml
Purification® 5-ml
R.C.™ 5-ml
DiGize™ 5-ml
PanAway® 5-ml

Stress Away™ 5-ml
AromaGlide™ Roller Fitment
10 Sample Packets
10 Love It? Share It! Sample Business Cards
10 Love It? Share It! Sample Oil Bottles
2 NingXia Red® 2-oz. samples
Product Guide and Product Price List
Essential Oil Magazine
Essential Edge
Member Resources
One or more of the following essential oils may be substituted in the event of sourcing constraints or supply considerations: AromaEase™, Citrus Fresh™, Lemongrass, Orange and Tea Tree.
Purchased individually, this kit would cost well over $300... but purchased as a wholesale member, you can purchase this kit for 50% off! Then, the kit also entitles you to purchase all future oils, blends, products etc... wholesale price, which is 24% off!
To recap, you get an amazing selection of oils, a diffuser, some stuff that helps you learn all about what you are about to experience, and steep discounts on future purchases!